THE INTELLIGENT POWER WHEELCHAIR
round tube back vs. biomechanical
The high-grade iCHAIR MEYLIFE is ideally suited for complex medical conditions; additional options can be retrofitted. Its high degree of modularity enables precise customisation to the individual needs of the user. Permanent, all-day use indoors and out makes independent mobility possible.
The multifunctional iCHAIR MEYLIFE power wheelchair - now available with the newly developed round tube back concept or with biomechanical seat and back unit for highly complex fittings! You can find more new options in the overview.

MODERN DESIGN
Strikes the right tone - Christoph - our photomodel values the individualised colour design and the sporty, elegant appearance of the iCHAIR MEYLIFE.

The look plays a key role in the feel-good factor. That's why the iCHAIR MEYLIFE power base is fully enclosed. Coloured dynamic stripes, and rim and armrest inserts give the power wheelchair an individual character. An all-round harmonious, reduced and modern design.



To be able to see the different color accents,
please click on the color fields.

| | |
| --- | --- |
| 1 | Extension element for headrest |
| 2 | Multifunctional 3D headrest (adjustment range: horizontal, vertical and angular position) with the possibility of individual adjustment of the side bolsters |
| 3 | Round tube version with Netti and Ride seat system in conjunction with detachable armrests with clothing guard |
| 4 | New detachable armrests, various seat and back cushion combinations can be easily attached, armrest pads can be ordered separately from armrests |
| 5 | New centre mount table control with folding mechanism for the R-Net control module, swing-away to the right |
| 6 | Thigh pelottes with infinitely variable width and length adjustment |
| 7 | New luggage rack |
| 8 | Mechanical height-adjustable legrest: Swivel up, detachable and swing-away (gas spring) 10° to 180° |
| 9 | Chest pelottes only in conjunction with biomechanical back (optional) |
| 10 | Newly developed bracket for attendant control |
More options
Back width can be configured completely differently to seat width
Available now: choice of 3 operating modules R-Net, OMNI II, external adjustment keypad
ESP stabilisation module
Electric seat tilt, infinitely variable by 30° to 50°
Electric backrest adjustment from 10° - 50° for contour backrest in conjunction with swing-away biomechanical armrest
One-piece footrest (optional)
Shoe holder straps (pair)
Drive wheels with studded tread and puncture- resistant pneumatic tyres without surcharge
A variety of seat and back combinations from MEYRA, Netti and Ride Design, without surcharge even in the standard range, as well as from third-party manufacturers!
1

MULTIFUNCTIONAL 3D HEADREST


Different joints and profile rails for precise horizontal, vertical and angular adjustment, headrest with mouldable cushion and memory function for easy removal

2

BIOMECHANICS

Biomechanical back adjustment by 80° incl. 15 cm length compensation, biomechanical armrests that lower by up to 45° in line with the back angle

3

LEGREST

Particularly stable and compact design, flexible adjustment of the legrest retainer in width and depth, electrical adjustment options for the angle, length and footplate angle - for excellent ergonomics

4

SIDE BOLSTERS

Additional support of the seat cushion

5

LATERAL SEAT RAILS


Grooves on the outside and inside for easy attachment and positioning of accessories such as belt systems

6

CABLE ROUTING

Cable connections with plug & play principle for quick and easy addition of electrical components. The cable chain nestles inconspicuously into the recess below the seat plate when the lift is retracted and protects the cables against external damage

7

LIGHTING SYSTEM

Energy-saving, reduced rear light design and eye-catching dynamic indicators

8

FULL PANELLING

A visual extra and protection against corrosion for connectors and cables

9

ALL-WHEEL SUSPENSION

Each wheel can react individually to unevenness for optimised reduction of impact

10

FENDER


For the 10" and 14" wheels, prevents soiling of wheelchair and clothing
IT´S SHOWTIME – MULTI-TALENTED
Christoph is mad about music. Whether through headphones in the office or at his sister's rehearsal at the theatre - relaxation is pre-programmed!

With the iCHAIR MEYLIFE, the legrest, lift, tilt and back can be adjusted mechanically or by infinitely variable electrical means. The biomechanical back with lowering armrest provides for length compensation of 15 cm. The complete mechanics are compactly accommodated on the rear unit. This design allows for maximum flexibility in customisation.

MODERN LIGHTING CONCEPT
See and be seen – adequate lighting enhances safety, especially in the dark. But Christoph and the iCHAIR MEYLIFE also do visibly well on stage!

The LED indicators with dynamic running light effect, inspired by the car industry, fit perfectly with the modern technology of the wheelchair. The bright LED lights running from the inside outwards send clear signals as well as being a real eye-catcher. The headlights and rear lights of the iCHAIR MEYLIFE are also extra bright and yet energy-saving.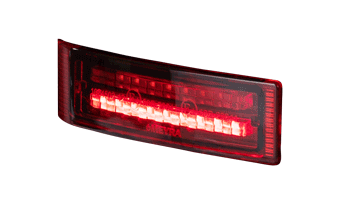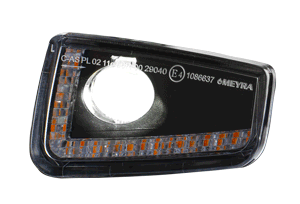 QUALITY AND SAFETY
Quality you can rely on – modular and durable. High-quality components with long-term supply of spare parts make the iCHAIR MEYLIFE a reliable power wheelchair.
All-wheel suspension ensures safety and comfort in any position. Edges and bumps can be overcome more safely, as each wheel can react individually. The wheelbase is 2 cm longer than the other chassis versions in the iCHAIR family and provides additional stability. The castor wheel lock (currently under development) prevents the castor wheels from swivelling out, for instance when moving over ramps.
BY THE WAY
The iCHAIR MEYLIFE is ISO crash tested. MEYRA also tests function and safety beyond the required standards with increased load. Performance on uneven ground, inclines and declines is scrutinised on a test track, in addition to speed and braking distance.
CHRISTOPH WEHN-STENGER
Following a swimming accident in 2003, Christoph is impaired from the C7 vertebra downwards. Although his mobility is restricted, that doesn't stop him from being independent. He successfully runs a spare parts business. The compact iCHAIR MEYLIFE facilitates life for Christoph, whether at work in the office or in his free time. His sister Jaqueline is also a source of great support. She helps him wherever she can, and Christoph in turn often supports her mentally. Together they make a great team and we are delighted to have met them.
DISCONNECTION OF POWER SUPPLY
Easy disconnection of the power supply for longer standstill periods or for transport in a car or plane.
SEATING SYSTEM
The seat pan can be individually adapted in width and depth without replacing parts. Perfect for quick economical reuse.
ELECTRIC CASTOR WHEEL LOCK
At the push of a button, the castor wheels can be locked and the driving speed is automatically reduced to 3 km/h, preventing the castor wheels from swivelling out, for instance when loading or reversing. (currently under development)
Mit dem Aufruf des Videos erklären Sie Sich einverstanden, dass Ihre Daten an YouTube übermittelt werden und das Sie die Datenschutzerklärung gelesen hast.
Do you have any further questions? We would be happy to inform you:
nach oben